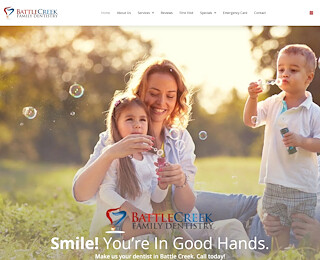 The most powerful concept in dentistry is prevention. The purpose of our oral hygiene routine is to preserve our health and prevent dental problems in the long run. At Battle Creek Family Dentist, we have built a decades-old practice focused on preventing and treating all types of dental issues.
Knowing how to choose your service provider is extremely important because not all of them function according to the same standards. And our Battle Creek dentists are leading specialists in the dental practice. With us, you have several essential benefits to expect:
Prompt emergency services – Sometimes severe dental problems may arrive unannounced, requiring immediate professional intervention. We cover a broad spectrum of situations, including accidents leading to chipped, cracked or knocked-out teeth, severe toothaches, abscesses and swelling, oral and maxillofacial trauma.


Restorative dentistry – Whether you need a root canal, dentures, crowns, or even a dental implant, our restorative dentistry will address all your dental problems with professionalism. We are renowned not only due to our vast range of services but thanks to our care and understanding as well. 


Top cosmetic services – Teeth whitening, veneers, bonding, and Invisalign – we use everything in our arsenal to make sure your smile will remain healthy and shiny. All Battle Creek dentists working with us will teach you the value of a bright, pristine smile. For that purpose, we use the most modern techniques to eliminate teeth discoloration, malocclusion, misalignment, and many others.


Preventive dentistry – As we mentioned previously, prevention is the golden rule of a healthy mouth and a beautiful, long-lasting, and contagious smile. We use night guards and sports guards to prevent tooth and gum injury and teeth grinding, regular cleanings, oral cancer checks, and fluoride treatments for the remineralization of your teeth. At the same time, we will investigate your overall state of health and lifestyle habits, trying to help you preserve your peak dental condition for as long as possible.


Experience and professionalism – Our staff love working with people, for the people. We offer personalized care, many years of experience, and modern and exhaustive approaches to both mild and severe dental problems. Our professionals dedicate to their practice entirely and aim to provide you with a friendly, comforting environment for a memorable experience.
If there's something we value more than anything else, then that's the joy and the satisfaction you will experience the moment you will leave our office. We believe the best Battle Creek dentists should be mainly concerned about your wellbeing more than anything, and this is the philosophy that defines us. We are professionals, non-judgmental, and we strive in changing our patients' lives for the better.
At Battle Creek Family Dentistry, we combine passion with the knowledge and the commitment to make you smile again. Contact us, and one of our dental specialists will take your case immediately!
Battle Creek Dentists
Battle Creek Family Dentistry
2699684366
2545 Capital Ave SW 210, Battle Creek, MI 49015
View Larger Map