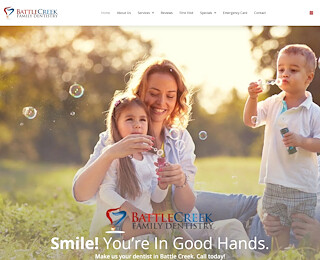 Discover the advantages of dental implants at Battle Creek, MI area's popular dental clinic. Battle Creek Family Dentistry is pleased to offer several options for replacing missing teeth, yet implants remain one of the safest, most-reliable methods of improving appearance and function. Explore the benefits of aesthetically superior implants on our website and schedule a consultation with our staff if you have questions.
Why Implants Are Worth the Investment
Dental implants cost a bit more upfront than dentures or dental bridges. Before you decide the investment is not worth the extra money, consider the fact that implants are designed to last a lifetime when cared for properly. If this were the only advantage, implants would be well worth the added cost; however, there are numerous reasons why implants are a better value when compared with dentures and bridges:
Implants Immediately Improve Your Appearance
Unlike dentures, implants preserve bone and prevent bone loss from occurring over time, significantly improving the appearance of your face. No other prosthetic available today looks or functions as nearly to your own teeth as implants. Our staff can restore your smile in as little as one to two treatments, so you'll experience less time waiting for your beautiful new smile.
Renew Your Self Confidence
Whether you're missing a single tooth or multiple teeth, you may find it difficult to laugh naturally, smile confidently, or speak in public. Implants do a terrific job of restoring confidence often lost due to missing teeth. Social situations improve immediately following implant surgery since there are no limitations or restrictions involved.
No 'Denture Diet'
We've all seen the ads for denture creams and other products, promising the ability to eat apples, steaks, nuts, seeds, and other foods typically not enjoyed by those wearing dentures. The truth about these products is that they do not live up to their claims. With dentures, eating with friends or family, or in social situations is hugely limiting. There is always the worry that dentures will slip and that they will require securing by making a run to the bathroom.
Our dental implants in Battle Creek, MI are more like your natural teeth; in fact, if you don't share the news with others around you, they won't know you've had implants since they look, function, and feel like your own teeth- in every way. Eat all the foods you love without feeling anxious that your teeth will come loose or that someone will notice they are ill-fitting.
Preserve Adjacent Teeth
Tooth-supported bridges compromise the enamel of teeth situated next to the prosthetic, weakening them and creating a situation that can lead to further tooth loss. Dental experts consider implants the best choice for most dental patients. Feel free to schedule a consultation with our staff to determine whether you're a candidate for implant tooth replacement. Minimally-invasive implants are easy to take care of, requiring regular brushing and flossing in-between routine dental appointments.
Find out more about dental implants in Battle Creek, MI by calling our team today! Phone now!
Dental Implants Battle Creek MI
Battle Creek Family Dentistry
2699684366
2545 Capital Ave SW, Suite 210, Battle Creek, MI 49015
View Larger Map