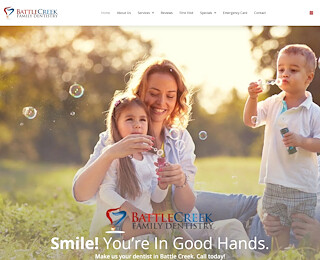 Your online search for a "dentist near me" has resulted in finding one of the most reputable dental practices in the greater Battle Creek, MI region. Battle Creek Family Dentistry offers a full range of preventive, restorative, and cosmetic dental procedures and treatments to keep your smile looking its best.
Our Convenient Location
Visit us at 2545 Capital Ave SW in Battle Creek, MI, close to entertainment and popular shopping. Incorporate your check-ups and cleanings into everyday errands to save time and fuel costs. Our staff at Battle Creek Family Dentistry believes that by providing a more convenient location, patients are more likely to confirm their dental visits. See our online map for directions from your home right to our door.
Why Convenience Matters
While we don't recommend choosing a family dentist based solely on its location in proximity to your home, we believe in considering location as one of the top 3 reasons why you choose a dentist. Your top two reasons should ideally be selected based on services provided and experience in dental care. Dental experts agree that patients are far more likely to keep appointments when they don't have to go out of their way.
How Important is Convenience?
Just as with any other type of service you pay for, the value of the service will always be increased based on what you get for the cost you pay out. Type our practice's name into your preferred directory, and you'll notice how many of our positive reviews mention our location. When searching for a "dentist near me" in Battle Creek, MI, you'll find we are a top pick among locals.
We are a leader in modern dentistry for more than just the fact that we are situated within Battle Creek. We feel that real value lies in being able to meet the needs of our patients, which is why we never overbook appointments or ask our patients to wait for more than a few minutes when they arrive.
Fewer Referrals Out
One of the most common complaints we hear from patients who are transferring to our practice from another dental clinic is regarding out-of-office referrals. If you're not comfortable seeing a complete stranger when your family's dentist is unable to accommodate you, we think you'll appreciate our investment in the latest equipment and training that allows our staff to provide in-house treatments to our patients.
We are proud to offer root canal treatment, dental implant surgery and fitting, orthodontics, crowns & bridges, dentures, extractions, pediatric dental care, and many procedures typically referred out.
Your Single Source For Full Service Dental Care
At Battle Creek Family Dental our new patients enjoy exclusive discounts on specific treatments and two complimentary dental cleanings to your whole family when you enroll in our In-Office Savings Plan. Click the 'Specials' link for additional information or contact our staff to schedule your first appointment.
Dentist Near Me
Battle Creek Family Dentistry
2699684366
2545 Capital Ave SW 210, Battle Creek, MI 49015
View Larger Map