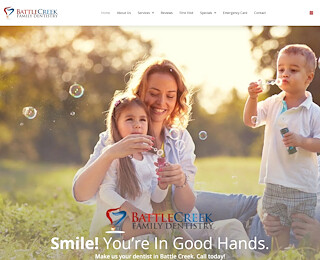 Teeth misalignment is common in many people and, when left untreated, may cause a lot of problems in the long-term. The treatments vary, depending on your condition, with many cases requiring Invisalign braces. At Battle Creek Family Dentistry, we treat every dental problem in the same manner – using a detailed and professional approach.
We will use Invisalign in Battle Creek Mi to not only straighten your teeth but provide you with an entire array of additional benefits, as well. These include:
Ease of use – Invisalign braces consist of a plastic teeth aligner you will cover your teeth with and which you can wear anytime you want. It is subtle, barely noticeable, and you can remove it with ease to clean it or when sleeping.
 
Improves dental hygiene – Malocclusion or misalignment will not only affect your looks but your dental hygiene routine as well. Teeth will be more difficult to clean, as food will get stuck continuously between them, making it difficult to remove during both brushing and flossing. Having straight teeth will solve that problem immediately.
 
Preventing gum problems – With crowded teeth usually come gum problems. Swollen and red gums will often become symptoms of severe misalignment as the teeth are difficult to clean, and, in time, lead to advanced gum disease (periodontitis). Straightening the teeth will help you better access your gums when brushing and flossing to eliminate the bacterial deposits responsible for the inffection.
 
Improve speech and chewing – We believe these are some of the key benefits of our Invisalign in Battle Creek Mi. Malocclusion will severely affect your ability to chew your food properly. In time, this will lead to digestive problems because the digestive process begins in the mouth, with chewing being the first stage. Using Invisalign braces will improve your chewing and will help to lessen or eliminate speech impediments caused by malocclusion.
 
Upgrade your looks – This is the number-one reason why people choose Invisalign. Having a beautiful smile, with clean, straight teeth, will significantly boost your confidence and self-esteem. Good looks will help you socialize better because people are attracted to those who smile a lot; they suggest a friendly, open personality.
Here, at our Battle Creek genral dentist office, we offer you some of the best services with quality, passion, and proficiency being our top assets. We use Invisalign to help you remain healthy, joyful, and confident in your ability to exert a magical influence with your unique smile.
At Battle Creek Family Dentistry, you know you will always have top services, a friendly environment, and a professional team. We look forward to hearing from you! Call today!
Dentists Battle Creek Mi
Battle Creek Family Dentistry
2699684366
2545 Capital Ave SW, Suite 210, Battle Creek, MI 49015
View Larger Map