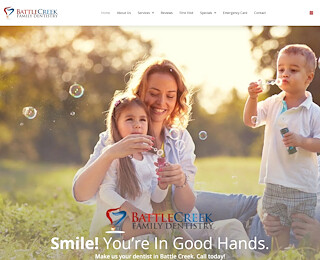 If you're considering dentures in Battle Creek MI to replace one or more missing teeth, Battle Creek Family Dentistry may be the perfect practice for you and your family. Our staff would love to sit down with you during a dental consultation to help determine whether dentures would be the best option for restoring your smile.
Finding a dental practice that offers dentures in Battle Creek, MI is not a difficult task. Finding one that is committed to your total satisfaction requires time and effort to ensure the completed dentures fit right, feel great, and truly meet your needs.
Schedule a Consultation
Our staff at Battle Creek Family Dentistry believes that great dental care begins with a thorough evaluation of our patients' teeth. Following an oral exam, we'll discuss treatment options with you and let you know what our recommendations are - and whether they are in line with the treatment you're seeking. New patients at our practice receive a free exam & x-rays by clipping the digital coupon on our website.
Dentures are not the only option for replacing missing teeth; however, they do come with many distinct benefits:
Cost-effective. Dentures remain one of the most affordable treatments for replacing missing teeth. For the lowest cost available, your dental professionals can restore the function of your mouth with custom-made dentures that will allow you to speak correctly, eat most of the foods you enjoy, and regain lost confidence.


Improve Health. Missing teeth can keep you from eating healthy foods, since teeth may not function optimally. A properly fitting set of dentures can help incorporate more solid foods into your diet.


Durable. Dentures are designed to last up to 10 years, making them one of the best investments in your dental care. Dental experts recommend having your dentures examined annually to check for damage, fit, and function. It's crucial that your dentures continue to fit well over the years.


Confidence Booster. The smiles on our patients face after being fitted with their new dentures is proof that great fitting dentures change lives. If you lack self-confidence or worry about smiling, there are numerous reasons to call our staff regarding new dentures in Battle Creek, MI.
If you'd like additional information on dentures, schedule a consultation with our staff at Battle Creek Family Dentistry by phone or through our contact form.
Dentures Battle Creek Mi
Battle Creek Family Dentistry
2699684366
2545 Capital Ave SW, Suite 210, Battle Creek, MI 49015
View Larger Map