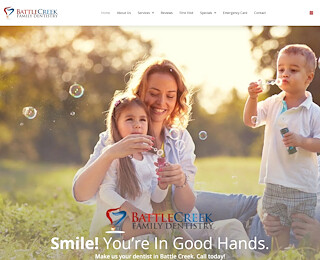 There are numerous advantages of choosing an emergency dentist in Battle Creek MI as your family's dental practitioner, not least of which is the fact that you will have access to a dentist if you should require urgent dental care following an injury or if you experience dental pain. Choosing Battle Creek Family Dentistry as your practice means peace of mind that we'll cover your entire family's dental care needs when you need it - including in the case of an emergency.
Stop the Pain
Surprises in life can result in a dental injury that requires immediate treatment by a dentist. If you've ever been in a situation when you needed prompt, emergency dentistry but could not find a practice that was able to fit you in, and you can certainly appreciate that our staff at Battle Creek Family Dentistry makes time in our everyday schedule for walk-in patients and urgent call-in needs. We can stop the pain quickly and effectively when you trust us with your immediate dental needs.
See an Emergency Dentist in Battle Creek MI, Not an ER Doctor
There is often confusion about where to receive the right type of treatment for a dental emergency. Since pain can be a factor with a tooth injury or dental issue, people often mistakenly think that the ER would be able to treat their pain. Unfortunately, sometimes dentists are not on call to provide urgent dental care.
Our staff at Battle Creek Family Dentistry will provide professional advice when you call us with your dental issue. We'll offer recommendations on how to manage pain and let our staff know that you're on your way in to see us. We're careful not to overbook our patients to ensure time for emergency situations.
We Treat Dental Injuries
If you're injured in an accident or have sustained a dental injury, we recommend that you come in to receive treatment as soon as possible. Teeth that are broken off or chipped can lacerate adjacent tissue in the mouth and pose a severe threat. When cared for properly, knocked out teeth can often be saved with prompt dental oversight.
For immediate dental restoration, tooth-colored bonding can prevent further injury. After a thorough assessment of the injury, our staff will repair the damage that needs immediate attention, manage pain, and schedule additional visits to restore your smile.
If You're in Pain, Call
Our patients often tell us they're never quite sure if certain dental matters are considered an emergency. We like to say to our patients that any painful situation is a dental emergency. Don't hesitate to call our office if you need to see an emergency dentist in Battle Creek MI immediately. We can very often accommodate patients with same day appointments.
Keep our emergency number written down in a place where you'll be able to quickly find it during the chaos that can ensue after an injury or while experiencing a toothache. We recommend storing our number in your phone's contact list under "Emergency Dentist" for quick location.
Emergency Dentist Battle Creek MI
Battle Creek Family Dentistry
2699684366
2545 Capital Ave SW, Suite 210, Battle Creek, MI 49015
View Larger Map