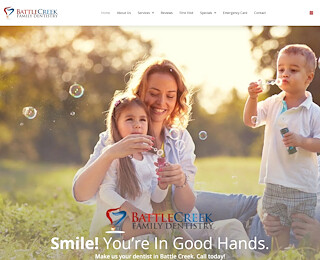 Choosing a general dentist or pediatric dentist in Battle Creek, MI is vital to maintaining your child's oral health. The misconception that children who brush their teeth daily do not need to see a dentist on a regular basis is without merit. Making sure your child is seen routinely by a general dentist or pediatric dentist who is passionate about educating your child in proper brushing and flossing methods is key to laying a strong foundation that leads to a lifetime of beautiful smiles.
We Believe in Starting Out Right
Our staff at Battle Creek Family Dentistry invests time in our young patients to teach them proper technique, so their checkups go well when they visit us. Schedule a new patient visit with us to ensure your child experiences all of the following benefits of our pediatric dentist in Battle Creek, MI:
Regular Exposure to a Dentist. Most adults with fear of the dentist chair feel anxiety about seeing their dentist merely because they were not conditioned at an early age to sit in a dental office and learn how to undergo cleanings or treatments more patiently.


Catching Dental Issues Early. Preventing painful and costly dental care is one of the best reasons to bring your child in to see a dentist on a regular basis. Frequently, symptoms are only noticed after a dental issue has persisted for months, so that by the time symptoms are noticeable, damage to teeth has already occurred.


Children Learn From Consequences. Having a tooth drilled and filled is one of the biggest motivators for taking care of one's teeth. Likewise, receiving a small reward for a good checkup can prompt a child to continue in good oral habits. Your child will learn these simple yet effective lessons through routine visits.
Exceptional Dental Care for Your Entire Family
We treat patients of all ages at Battle Creek Family Dentistry, from our youngest patients with newly emerging teeth to seniors and adults looking for affordable, quality dental care. 
Give Your Child a Great Start
Establishing a positive relationship with a dentist and hygienist can lead to a lifetime of benefits for your child that range from the elimination of anxiety while receiving treatment to a strong desire to maintain a beautiful smile throughout their lifetime. When you make it a priority to bring your child into our office for routine dental care, they'll reap the rewards of your commitment to their oral health.
Schedule a new patient appointment with our dentists in Battle Creek, MI and see why we are considered one of the most reputable practices in the area. Our convenient location, affordable rates, and patient specials make it a natural choice to call our practice for routine, restorative, and cosmetic dentistry.
Pediatric Dentist Battle Creek Mi
Battle Creek Family Dentistry
2699684366
2545 Capital Ave SW, Suite 210, Battle Creek, MI 49015
View Larger Map