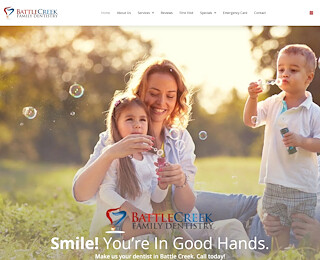 Are you fed up with having to wait weeks or months for your dentist to find time to see you? If you're like a growing number of people who feel they need faster service from their oral health expert, we invite you to see why Battle Creek Family Dentistry is the right call for many local families.
If you're experiencing a dental emergency or need a same day dentist appointment for another reason, we can accommodate your needs at Battle Creek Family Dentistry. We take urgent dental needs seriously, which is why we tell our patients: If you're in pain, you can consider the situation an emergency.
Why You May Require a Same Day Dentist Appointment
Cracks or Chips. Everyday activities and dental injuries can result in chips and cracks that can range in severity. Prompt restoration of the tooth can eliminate the possibility that bacteria can enter the tooth and lead to an infection. Call our office immediately if you chip or crack a tooth, with or without pain.


A toothache. Don't deal with a toothache at home. A severe toothache most often indicates infection or decay and requires immediate examination by a dentist. Use a cold compress to minimize pain and reach out to us to let us know you need a same day dentist appointment for a painful tooth. Remember, toothache pain can fluctuate but it will never disappear. Teeth are the only part of the body that do not heal themselves. Never delay treatment, as pain will get worse.


Tooth Loss. Loss of a permanent tooth due to an accident can be traumatic. Keeping a cool head in light of a lost tooth can make all the difference in saving a tooth. Call our office to let our staff know you're on your way, and we'll make time in our day to provide treatment.
Important: If possible, place the tooth back into the socket (adults only) or in a small cup of milk, or place the tooth between the gums and your cheek and ask a friend or family member to drive you to our office. Under the right circumstances, a knocked out tooth can be saved, however, time is of the essence.


Tissue Injuries. Dental accidents can sometimes result in puncture wounds or lacerations to the tongue, cheeks, and lips- these are also considered dental emergencies and require a same day dentist appointment to reduce the risk of further injury from broken, sharp teeth. If you are bleeding from a dental injury, take acetaminophen for pain, since it is not an anticoagulant.

Use Common Sense Practices
If you feel a dental situation requires immediate care, don't hesitate to call our office to speak with our staff. When in doubt, it's best to err on the side of caution and have our dentist take a look at what's going on.
The American Dental Association has labeled a dental emergency as any dental problem requiring immediate treatment to save a tooth, stop bleeding, or alleviate pain. We're here for you when you need us at Battle Creek Family Dental. Call us for a same day dentist appointment. We also warmly welcome walk-in patients.
Battle Creek Family Dentistry
2699684366
2545 Capital Ave SW, Suite 210, Battle Creek, MI 49015
View Larger Map