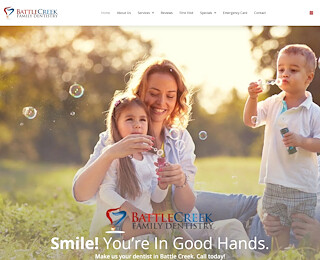 Choosing Battle Creek Family Dentistry as your Springfield dentist can be advantageous to your entire family. As a conveniently located dental practice serving the needs of Springfield residents, we are committed to providing a wide range of services designed to meet your needs. Schedule a new patient appointment for routine dental care, restorative & cosmetic dentistry, and preventive care for every member of your family.
Better Checkups
Our staff at Battle Creek Family Dentistry is passionate about instructing patients on proper brushing and flossing methods to ensure more effective dental care in between visits. As a patient at BCFD, you'll share your best smile yet with those around you.
If you have children, you'll appreciate the time we invest in making sure visits are enjoyable and painless. We believe in setting the stage for a lifetime of good oral care habits that start at the earliest age. Fluoride treatments and sealants protect newly emerging and young teeth while children develop the proper technique for maintaining a beautiful smile.
The Newest Technology
We have invested heavily in the best equipment available to dentists today to bring you many beneficial services you'll only find by visiting a dedicated Springfield dentist. Innovative materials and techniques allow our staff to offer you:
Tooth-colored fillings, for a more natural smile that does not draw attention to you in the way that out-dated amalgam fillings once did- and new filling materials are considered far safer to patients.


Dental implant restorations, do provide ongoing support for our patients who have decided to replace missing teeth with the most natural-looking and functioning prosthetic.


Painless extractions for wisdom teeth and damaged teeth. If you need removal, you couldn't find a more compassionate staff than our dental professionals from Battle Creek Family Dentistry.


Invisalign, the virtually invisible way to straighten teeth without the hassles of metal wires and brackets. Adults and teens prefer Invisalign to traditional braces as the most convenient path to a beautiful new smile. Find out if you're a candidate for Invisalign by scheduling a consultation in our office.
As a Springfield Dentist New Patient
See our 'Specials' section for new patient discounts and savings that include:
Whitening For Life. When you maintain regular check-up appointments with our practice, we'll provide you with complimentary whitening gel during your visits.


New patients without insurance benefits will receive a free examination and x-rays.
Save on Dental Care
Enroll in our savings program, and we'll provide two free dental cleanings to your family as our way of showing you how much we appreciate you as a patient in our practice. See details of our program in the 'Specials' section of our website.
For appointments, questions, or emergency dental care, call our office or connect with our staff through our online interface. Our convenient office location on Capital Ave SW behind the Secretary of State Office is close to dining, shopping, and entertainment.
Battle Creek Family Dentistry
2699684366
2545 Capital Ave SW 210, Battle Creek, MI 49015
View Larger Map