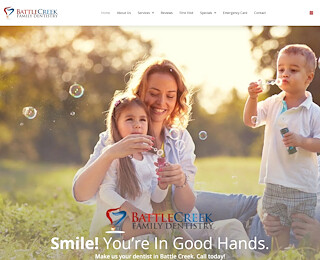 For anyone considering dental veneers, Battle Creek Family Dentistry offers professional, affordable treatment that can significantly improve your smile. It's no longer necessary to pay for costly cosmetic procedures that can take months to complete, thanks to advancements in dental care that include beautiful veneers.
Restore Chipped, Gapped, Misshaped, or Discolored Teeth
One of our newest procedures takes just two visits and can create a beautiful new smile that is cost-effective. Veneers are ultra-thin, durable, hand-crafted ceramic shells that are bonded to the front of your teeth to improve alignment, shape, and color. Veneers are natural-looking, so no one will even suspect you've had cosmetic dentistry performed. In two to four weeks, you could be showing off your brightest smile yet.
Experience the Benefits of Veneers:
Battle Creek Family Dentistry recommends veneers as one of the most affordable ways to improve your smile- with results that can last up to 15 years with proper care. Choosing veneers for cosmetic dental treatment is a great investment.


Porcelain veneers look just like your natural teeth- only better. Our staff custom-crafts veneers to match your natural tooth color so that the secret will remain safe with you. In time, you'll most likely forget you are wearing veneers since they will be bonded directly to your teeth.


The exceptional stain resistance of veneers means you'll never have to worry about enjoying foods or drinks that typically stain teeth, such as wine, coffee or tea, and grape juice. Your new veneers will stay white for years.


There is no downtime associated with having veneers bonded to your teeth. Following treatment, you're free to enjoy all of your regular activities immediately. Our patients tell us this is one of the most well-received advantages of veneer treatment.


Watch your self-confidence soar when you put your best foot forward during office meetings, personal encounters, and everyday relationships. A beautiful smile is a terrific ice breaker and makes a stunning first impression. If you've lost that confidence due to chipped or discolored teeth, veneers can improve the appearance of your smile.
There's Never Been a Better Time
Advancements in dentistry have resulted in more affordable treatments. If you've been thinking about asking a dental practice about the benefits of veneers, Battle Creek Family Dentistry would love to answer your questions, schedule a consultation with our staff, and provide additional information on how veneers can benefit you.
Fill out our online contact form or call our office to get the process started. Following a thorough examination, if we feel you're a good candidate for veneers, you could be showing off your new smile in just a few short weeks.
Veneers Battle Creek
Battle Creek Family Dentistry
2699684366
2545 Capital Ave SW, Suite 210, Battle Creek, MI 49015
View Larger Map